Like & Share us on Facebook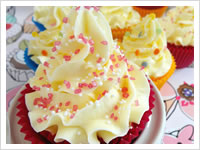 Do you LIKE an offer? Let's face it who doesn't! Like & share us on Facebook and you will receive all our special offers. If you've already liked us, please share and ask your friends to Like us too.
Simply go to this link www.facebook.com/cupacakeascot and click the Like button once you have landed on our page. You will now receive all our fantastic offers such as this:
Delicious Spring Offer!
For one week only we are offering our delicious Vanilla & Sprinkle Cupcakes for just £1.50 each! That's 25% off our usual price!
With just a minimum order of 6 cupcakes, you can have a delicious treat, all boxed up and ready to go for just £9.00! Isn't that just too good an offer to miss?
Offer runs from Monday 29th April to Saturday 4th May 2013
As always, delivery is free within a 5-mile radius of our premises and we are also making this available to the minimum order of 6, with this offer.
We are waiting for your call. Your cupcakes will be boxed and ready for you, please allow a minimum of 3 hours' notice.
Orders for collection or hand delivery. Delivery charges will apply outside of our free 5-mile radius.
Last orders for Saturday 4th May, no later than Friday at 5.00 p.m.
*orders placed for this offer are only available for the specified dates above.