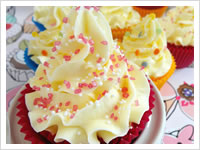 Ingredients
Cake
Non-stick vegetable oil spray
1 box ready-to-use refrigerated pie crust 14.1 oz
3 cups sifted cake flour
1 1/2 teaspoons baking powder
1/2 teaspoon baking soda
1/2 teaspoon salt
1 1/4 sticks butter, softened 10 tablespoons
1 3/4 cups granulated sugar
2 eggs
2 tablespoons finely grated lemon zest from two lemons
1 1/4 cups buttermilk
Filling
1 jar lemon curd 10 oz.
Icing
1 tablespoon + 2 teaspoons Meringue Powder
1/3 cups cold water
1/2 cup granulated sugar, divided
Instructions
Step 1
Preheat oven to 350°F/160 Celcius. Prepare muffin pans with vegetable pan spray.
Step 2
On a lightly floured surface, unroll pie crusts and roll into 13 in. rounds. Cut with Round Comfort-Grip cutter. Reroll scraps and cut again for 24 rounds. Press one round into the bottom and up sides of each pan cavity. (Dough will not come all the way up the side of the cup).
Step 3
Bake 15 minutes or until light golden brown. Remove from the oven. Cool completely.
Step 4
In a large bowl, combine flour, baking powder, baking soda, and salt; set aside.
Step 5
In a second large bowl, beat butter and sugar with an electric mixer until light and fluffy. Add eggs and lemon zest; mix well. Add flour mixture alternately with buttermilk, beating well after each addition. Spoon batter over cooled pie crusts, filling cavity 3/4 full.
Step 6
Bake 24-26 minutes or until a toothpick inserted in the center of a cupcake comes out clean. Cool cupcakes 5 minutes. Loosen sides of cakes with a small spatula and remove to cooling grid to cool completely.
Step 7
Cut a hole approximately 1 in. wide x 1 in. deep with a paring knife in the top of each cupcake; fill with lemon curd.
Step 8
Position oven rack 8-10 inches from the top of the oven. Preheat broiler.
Step 9
For the icing, whip meringue powder, water, and 1/4 cup sugar in a large bowl with electric mixer on high speed for 5 minutes. Gradually add remaining sugar and continue whipping at high speed 5 minutes or until meringue is stiff and dry. Pipe a 1M swirl of meringue on each cupcake. Place back in muffin pans or on cookie sheets. Broil 30-45 seconds, or until meringue is lightly toasted.